ABOUT THE MUSEUM RESEARCH TRAINEESHIP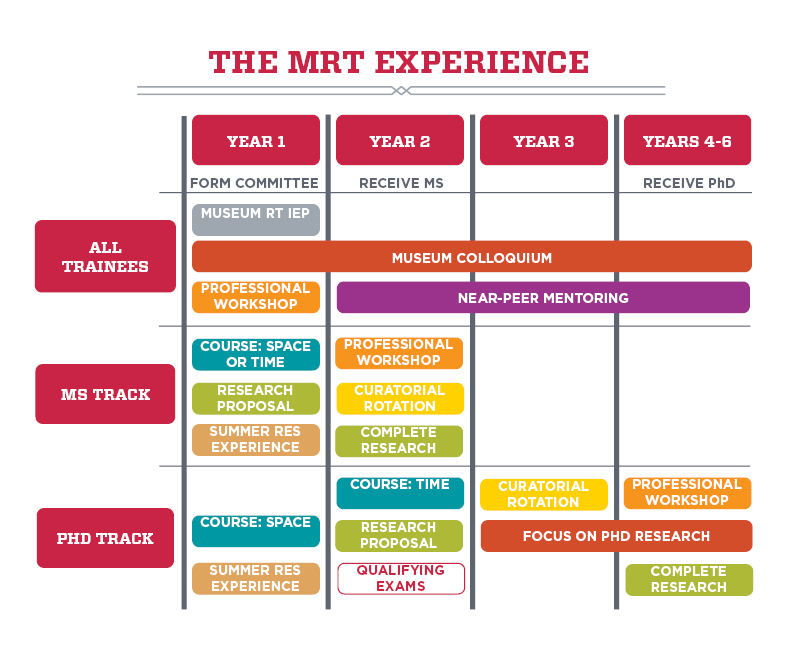 CO-MENTORSHIP OF TRAINEES
By teams of faculty and curators (timeline to the left), and peers that provide disciplinary and museum perspectives to education, training and research
INDIVIDUAL EDUCATION PLAN
A comprehensive and holistic Individual Education Plan tailored for each trainee to explore shared values and to clearly lay out goals, expectations, and describe resources of the program and UNM as a whole. Each IEP is developed collaboratively by the student and the mentorship team.
TWO NEW MODULAR, INQUIRY-BASED COURSES
Space and Time will focus on temporal and spatial analysis and theory in the context of object-derived data. These courses are cross-listed broadly and designed to fulfill degree requirements in degree programs of participating departments.
ROTATION AS A GRADUATE CURATORIAL ASSISTANT
For at least one semester, this experience enables trainees to learnabout work in museum settings, and to contribute to and use museum resources. This is a 0.5 FTE Graduate Assistantship position (11 total positions available to the program each semester).
INTERDISCIPLINARY MUSEUM SCIENCE COLLOQUIUM SERIES
Student-driven and cross-listed as a weekly 1-hour course, taken every semester excluding the summer.
SUMMER RESEARCH EXPERIENCE 
With emphasis on cross-museum sample collection, acquiring specialized programming, analytical and technical skills, and/or data processing and analysis.
PROFESSIONAL DEVELOPMENT WORKSHOP
A one-hour per week course to be taken in the first and last semesters of the MS or PhD tracks. Earlier trainee cohorts will help design and organize workshops for future cohorts.